Buying a used car can be a risky business. Before you part with your hard-earned money, you want to make sure you're getting a good deal and a car you can rely on. There are several ways to make sure you don't get burned, including having your car inspected by a professional. But what does a full car inspection cost?
The price of a car safety inspection will vary from one province to the next, and from one mechanic to another. However, as a general rule of thumb, expect to pay around $100-$200 for an inspection that will cover all the major safety points of a vehicle.
What is a pre-purchase inspection?
A pre-purchase inspection is a service offered by many mechanics in which they will thoroughly inspect a used car before you buy it. This can give you some peace of mind, knowing that someone who knows what they're doing has looked over the vehicle and found it to be in good condition. We were able to easily find a full car inspection costing as low as $99.00 and this includes the inspector coming to your location to do the inspection.
It pays to shop around for inspectors, so have a look online and see who offers the best current deal based on your location. It's worth contacting your local garage for a quote as well, as they may be competitive and have the convenience of being close to you.
There are so many problems a car can have that are not immediately apparent on first glance. Even a test drive may not reveal some of the issues a car can have. That's why it's so important to have a trained professional with experience to look for common issues and make sure a car is worth buying.
That's also why it's so important to run a vehicle check before buying. It's as simple as using our free VIN or Licence Plate checker tool below and entering the car's VIN. That way, you can get a full picture of the car's ownership history, any accident reports, the car's service history, and other vital information. It's easy to find the VIN on a car to run this check, but you can also run a check on a car before you inspect it with our license plate check tool.
DECODE YOUR VIN INSTANTLY
CHECK THE VIN OF YOUR SELECTED CAR RIGHT HERE
NEW!
CHECK YOUR LICENCE PLATE INSTANTLY
CHECK THE LICENCE PLATE OF YOUR CAR HERE
Should I get a car inspection?
The bigger the purchase, the more important it is to make sure you're doing the right thing. You shouldn't buy a pair of pants without trying them on, so you definitely shouldn't spend thousands of dollars on a car without knowing it's safe and problem-free.
A car inspection can give you the peace of mind that you're making a sound investment. It's especially important if you're buying a used car, as it can be difficult to spot issues without a trained eye.
If you're buying a car from a dealership, they may offer their own inspection service. However, it's always a good idea to get a second opinion from an independent mechanic. They will have no vested interest in the sale of the car, so you can be sure they're giving you an honest assessment.
At the end of the day, it's up to you whether or not to get a car inspection. But we would highly recommend it, especially if you're buying a used car. It could save you a lot of money and hassle down the road.
It's worth noting that every provincial licensing authority in Canada recommends getting a comprehensive vehicle inspection before buying a used car.
Where to go to get a car inspection
When buying from a dealership, it's common for the dealership to offer its own prepurchase inspection. However, it's not hard to see the problem with this. The dealership wants to sell you a car, and so it's in their interest to downplay any issues it may have.
Failing to report safety issues with the vehicle is a serious crime, but there are other issues unrelated to safety that a car can have and that a dealership might not want to mention.
The best thing to do is to take the car to a mechanic that you personally know or that has been recommended to you by people you trust. Don't just go with the nearest mechanic if you can avoid it.
Any reputable dealership or private seller won't have a problem with you having the vehicle inspected by your own mechanic before making a purchase decision. And if they don't want you inspecting the car they are trying to sell you, ask yourself why.
Along with a thorough car inspection by a trusted mechanic, a VIN check can help to alert you to any issues both with that particular car and with all cars of its make and model. Run a VIN check so you can learn about any accidents, recalls, or other potential issues with any car you might want to buy.
What a car inspection should cover
A comprehensive car inspection should cover all aspects of the vehicle, both inside and out. This includes everything from checking the engine to seeing if there are any leaks to making sure all the electrical components are working properly.
The mechanic will also check the exterior of the car for any cosmetic damage, as well as take a look at the tires and suspension. They should also test-drive the car to see how it handles on the road and to look for any unusual sounds or vibrations.
Finally, they will hook up a computer to the car's onboard diagnostic system in order to check for any error codes that may have been logged. This can give you an indication of any potential problems with the engine or other systems.
In short, a good car inspection should leave no stone unturned. You should expect to receive a detailed report from the mechanic outlining any issues they found, as well as their recommendations for how to fix them.
A vehicle check gives you peace of mind
A car is too big a purchase to leave anything to chance. That's why a VIN check and full inspection is so important. A full car inspection costs only a few hundred dollars, and it can easily save you thousands in unwanted repair bills, so it's an investment well worth making.
.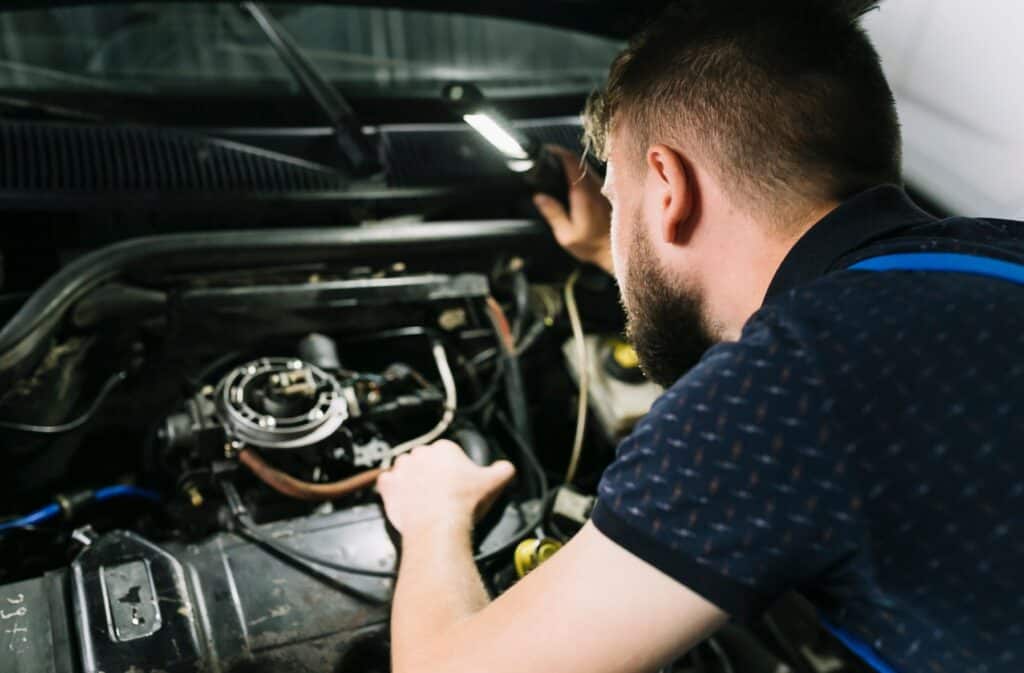 FAQs
Who should pay for a car inspection?
It's generally the responsibility of the buyer to pay for a car inspection, although some sellers may be willing to split the cost. A full car inspection cost is a very small portion of the overall vehicles cost, so it's well worth it.
How long does a car inspection take?
A comprehensive car inspection can take anywhere from 1-2 hours, depending on the size and condition of the vehicle.
Is it worth getting a car inspection on an older car?
Even if you're buying an older car that isn't worth much, it's still a good idea to get it inspected. An inspection can help to identify any potential issues that could make the car unsafe to drive, or that could cause expensive repairs down the road.
Can I negotiate the price of a car after inspection?
If the inspection report identifies any major issues with the car, you may be able to negotiate a lower purchase price. However, if the car is in good condition overall, it's unlikely that the seller will be willing to budge on the price.
DECODE YOUR VIN INSTANTLY
CHECK THE VIN OF YOUR SELECTED CAR RIGHT HERE
NEW!
CHECK YOUR LICENCE PLATE INSTANTLY
CHECK THE LICENCE PLATE OF YOUR CAR HERE