Are you planning on buying a second hand car to save yourself some money? Or are you planning on buying a car through eBay or Craigslist? But how do you know if the car you're buying or selling is not stolen? Below I'll be discussing everything you need to know about VIN check.
Why Should I Get A VIN Check? 
A VIN check is a surefire way of protecting yourself from accidentally buying a stolen car, an unreliable vehicle, or a still encumbered property by another individual. 
A VIN check or sometimes referred to as a chassis check, can also tell you about the car's history such as if it has been previously involved in a serious accident or if the previous owner still hasn't paid the car in full.
DECODE YOUR VIN INSTANTLY
CHECK THE VIN OF YOUR SELECTED CAR RIGHT HERE
NEW!
CHECK YOUR LICENSE PLATE INSTANTLY
CHECK THE LICENSE PLATE OF YOUR CAR HERE
What Is A VIN?
A Vehicle Identification Number or VIN is a 17-character serial number composed of letters and numbers which can identify a particular vehicle. Basically, this is like a social security number for vehicles such as cars, recreational vehicles, and trucks, among others. And running the car you wanted to buy is one way you can ensure that you're making a good investment.


Screen grabbed from YouTube
Take note that no two vehicles have the same Vehicle Identification Number or VIN.  And take note as well that a VIN does not include the letters I, O, and Q because they can be mistaken as 1 and O.
The first character of the VIN points where the vehicle originated and made,
A – H: Africa
J – R (except O and Q): Asia
S – Z: Europe
1 – 5: North America
6 or 7 : New Zealand or Australia
8 or 9: South America
The second and third character gives you the information about manufacturer and division. In particular, the third digit identifies whether the manufacturer is a low-volume or mass-volume manufacturing company. A list of manufacturer codes can be found here.
The fourth up to the eight character (also called vehicle descriptor section) of the VIN number will give you the vehicle's description, safety, and engine.
The ninth character (also known as check digit) points out to the manufacturer's security code whereas the tenth character will give you an idea about the vehicle's model year. Letter A corresponds to the year 1980. The following years were assigned letters after A. Here's a list you might find helpful in decoding the 10th character:
This table is from Wikibooks 
| | | | | | | | | | |
| --- | --- | --- | --- | --- | --- | --- | --- | --- | --- |
| Code | Year | Code | Year | Code | Year | Code | Year | Code | Year |
| A | 1980 | L | 1990 | Y | 2000 | A | 2010 | L | 2020 |
| B | 1981 | M | 1991 | 1 | 2001 | B | 2011 | M | 2021 |
| C | 1982 | N | 1992 | 2 | 2002 | C | 2012 | N | 2022 |
| D | 1983 | P | 1993 | 3 | 2003 | D | 2013 | P | 2023 |
| E | 1984 | R | 1994 | 4 | 2004 | E | 2014 | R | 2024 |
| F | 1985 | S | 1995 | 5 | 2005 | F | 2015 | S | 2025 |
| G | 1986 | T | 1996 | 6 | 2006 | G | 2016 | T | 2026 |
| H | 1987 | V | 1997 | 7 | 2007 | H | 2017 | V | 2027 |
| J | 1988 | W | 1998 | 8 | 2008 | J | 2018 | W | 2028 |
| K | 1989 | X | 1999 | 9 | 2009 | K | 2019 | X | 2029 |
Moreover, the 11th character tells you the assembly plant identifier, and lastly the characters from 12 up to 17 gives the car's serial number.
If, however, the VIN number you got does not contain 17 characters, then this just means that the car was manufactured before 1989. Cars made before 1989 have VIN numbers that can have 11-17 characters. Unfortunately, when this is the case, it's quite slim for you to get a report about the car's history.  Here's a video you might find useful in understanding the VIN number.
To further read on about VIN, here's a useful link.
How and Where Can You Find a Car's VIN?
This is easy. You can find it at the bottom of the car's windscreen on the passenger's side, on the driver's side door (fixed to the chassis), on the engine block, or under the spare tire. You can also find the VIN  in the vehicle title, insurance documents, repair records, and registration card as stated here by the PPSR. However, it's better if you find the actual VIN in the car.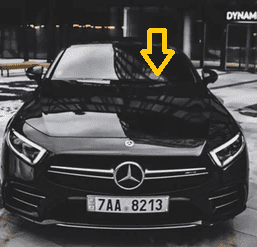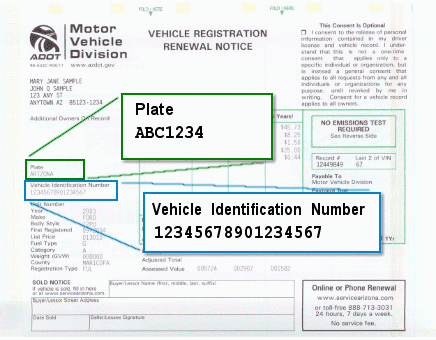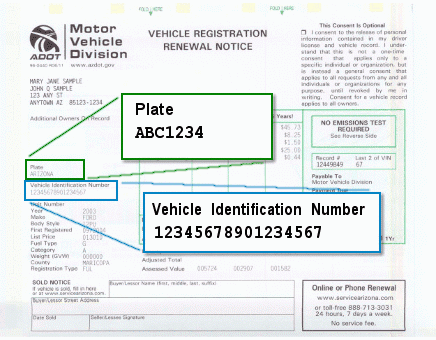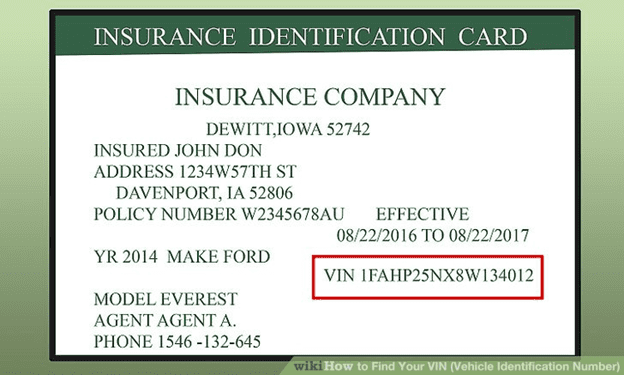 A sample Insurance Identification Card
How Do I Check The VIN Number?
Firstly, once you have the VIN number you should ask the seller questions like these below:
Inquire about the car's mileage.
Ask whether the car has been driven for long trips or just around town.
Ask if the seller is the owner of the vehicle.
Find out how long the owner owned the car.
Determine whether the vehicle was bought by the owner from another owner.
Ask whether the vehicle had rust problems.
Ask whether the car has been wrecked or undergone repairs.
Find out whether the car has a title.  
Ask whether the seller is a licensed dealer.
By having these answers from the seller, it gives you information to compare your findings with. So, now you would go and search the VIN number as per the following methods:
National Insurance Crime Bureau (NICB)
The National Insurance Crime Bureau (NICB) allows five maximum searches during the 24-hour period. The report you can get from them will tell you if the car you are about to buy is stolen.
The first thing you need to do is to have your VIN written on a piece of paper or saved as picture on your smartphone. As mentioned in the first part of this article you can find the VIN of a car near the dashboard, and in the driver's side door, among others.
If you decide to use the National Insurance Crime Bureau's site to get a free report is to enter the car's VIN number, next is to tick the box that says you agree to the terms and conditions, then put the verification code, then finally hit the search button.
Then you'll be taken to a page where the report is displayed.
If there exists a theft record for the car, this just means that the car, at one point has been stolen while a total loss record means that the car at one point has been reported to be damaged either from flood, fire, accident, etc.
This also means that you have to dig in deeper as to what happened to the car.
If the site did not produce a report, therefore the car has not been stolen and has not been damaged as well because the car will only turn up in the database if it has been stolen or gone through total damage. You can also ask your local law enforcement if the car you're about to buy has been reported stolen.
A free VPN report is also sometimes given by car dealers but these reports are only for those cars located in their lots. Aside from dealers, lenders also provide reports because it will benefit them to know if the vehicle is indeed enough collateral for a loan.
National Highway Transport Safety Administration's
If you suspect that the car you're about to buy or sell has been recalled you also have a way to either validate or invalidate your suspicion by using the National Highway Transport Safety Administration's website.
When you are on the site, the first thing that you should do is click the Vehicle tab. Then fill in the Model Year, Make, and Model. After you're done, press Enter.  If the car has been recalled, it will be listed on the website under the Recalls tab.
To help you further in locating your VIN number, this article might help: 
If you are looking for more detailed information than the free reports mentioned above provide, then you can use our VIN check tool to download a full and comprehensive Vehicle History Report.
Decode Your Car's VIN Using Vehicle Check Canada For Free

Using this website's VIN check tool, you can easily decode your VIN by entering your prospective car's Vehicle Identification Number (VIN).
Take note that as mentioned earlier VIN numbers do not have letters I, O, and Q.
Decoding your car's VIN number will include the following information:
Year of manufacture
Manufacturing country
Make, Model, Trim of the car
Details about the car engine
Aside from decoding your car's VIN number, they also offer a full vehicle history.
 Here are the details included in this report:
Structural and frame damage
Odometer rollback
Last reported mileage
Total loss
Branded a lemon/Junk
If the car is salvaged
Whether the car is a stolen vehicle
If the car has multiple owners
Service history
Flood damage/Hail damage
Registration and branding information
Insurance claims from public and private insurers
Airbag deployment
Recall and warranty information
Estimated miles driven per year
Lease, personal, taxi or police use
Lien check
Canada import records
Sample report from Vehicle Check Canada
Check out a closer look of the report created from Vehicle Check Canada here.
Vehicle Check Canada Also Offers Vehicle Insights
If you are a first-time buyer of a car, a vehicle check report will give you tips and tricks in the blog section that every first-time buyer should know. We also give you tips on how to properly maintain your newly bought car. And of course, we give you tips on what to avoid and look out for when buying a car from sellers.
What if the Report Shows Problems with the Car?
So, once you have the sellers vehicle answers and the vehicle history report, you can compare the two and look for inconsistencies. In general, the VIN reports you get for a price contain more detailed and comprehensive information regarding the car. The reports should match the information the seller is providing you with. If, it doesn't then you should reconsider purchasing the vehicle from this person.
To learn more about ways to get a free VIN check out, check out this video.

Why Should I Get a VIN Check?
Checking a cars VIN is very quick, simple and cheap so there's no reason not to do it. When you're going to spend thousands of dollars on a vehicle, why wouldn't you buy a $15 report to ensure its ok?
Here are the reasons why you should get a VIN check:
1. You Can Avoid Scams
Knowing your potential car's history can save you from getting scammed by people you can't trust. For example, you can check your car's engine number and match it with the engine number registered to the VIN. If they're not a match, then most likely the car has been illegally worked on.
2. Check If The Car Is In Good Shape
You can validate if the car is indeed in good shape as the seller says. As mentioned earlier, you can check if the car has been in a serious accident and if it is safe to drive, the repairs made, and even its previous odometer reading. Some sellers try to hide the real mileage to sell their car at a higher price by rolling back the odometer.
In case you've seen from the report that the car has been in a serious accident, then you should ask for documentation of all the repairs done, then check if they were done properly. It might be best if you hire a reputable mechanic to have this check done if you're really interested in the car.
The title history will tell you whether the car has been labeled as salvage title, and if it has been rebuilt, then sold.
You can also check if the car was rebuilt after being flooded then will have "washed" in their titles. Some dishonest people will bring this car into another state, then sell it. Approximately 20% of these cars are bought by people from abroad.
3. Pay for The Car's True Worth
Knowing the car's history will tell you the real worth of the car and will save you from paying more than its true worth.
4. You Can Check For the Financial Status of the Vehicle
A VIN check can give you an idea if the car was brought with a car loan. You can also check if the vehicle has already been paid in full. If the car has a guaranteed loan, then if you buy the car you maybe required to pay the debt.
5. Check If The Car Is Registered
You can also check if the car is registered or not and if yes, until when.
6. Know The Manufacture Details
You'll get to know the make and model of the car, as well as its color and manufacturing year.
Disclaimer: take note that checking the history of a car using the VIN number is limited by the reports done on the database. For instance, a minor accident might not be reported by the owner or the shop doing the repairs to the vehicle history companies.
Have A Respectable Mechanic Check The Vehicle Before You Buy The Vehicle
Whether you paid for the VIN report or got it for free, I suggest that you still have a respectable mechanic to check your prospective vehicle for any major repairs done on the vehicle.
Your mechanic should also check for the condition of the following parts of the car:
Heater
Windshield wipers
Lights
Turn Signals
Brakes
Tires
Engine (Batteries, Oil, Hoses, etc.)
The reality is, it is up to the buyer to check everything about their prospect car because the law does not require sellers to be honest about the car's condition they are selling.
For the mechanic, you should find an independent mechanic who is also ASE certified (Automotive Service Excellence). You can typically find them in those garages which participate in the Blue Seal Program.
Why Would A VIN Number Not Be Found?
If you are having trouble decoding your VIN number, the following might be the reasons why: 
1. VIN Number Contains Invalid Characters
There's a probability that the VIN number contains invalid characters. Take note that a valid VIN number should not contain the characters I, O, and Q because they could be mistaken for 1 and 0. Another reason why you can't find the VIN number is that it might not be 17 characters long.
2. The VIN Number Did Not Pass The VIN Checksum Test
Vehicles bound to the USA and Canada contain a 9th digit used to validate the VIN.
3. Outside The Data Provider's Coverage
It is possible that your data provider does not have data on the type of vehicle (or vehicle market) you're currently searching. Certain data providers might only support trucks or cars, and not both.
It may also be possible that your using a website that is only limited to a certain area or country.
4. What You Have Is A Brand New Vehicle
The vehicle is brand new so it does not have a car history yet which should be available in the database.
5. The Vehicle Is Too Old
On the contrary, the vehicle might be too old so its history might not be recorded on any database yet.  
Who Needs A VIN Check?
A VIN report will not only be beneficial for buyers but sellers as well. This report will help ensure the interest of both parties. It is a quick way to determine if a car is worth investing in. All in all, a VIN check will help you make the right decision when it comes to buying or selling a used car.
What Does A VIN Check Tell You?
Aside from insurance claims and police reports about the car, a VIN can also tell you the following:
Structural Damage
Recalls
Salvage Check
Car history and information
Odometer readings
Maintenance and repair records
Accident, flood or fire damage
Sales and ownership history
Car's Manufacturer and Manufacturing History
Registration Status
Financial Status/Current Lien Status
Airbag Deployment
Is it safe to give out VIN number?
Unlike your social security number, giving out VIN number, especially if you're selling used cars, will do no harm. Your potential clients need the used cars VIN number in order for them to check the car's history and decide whether the car you're selling is worth the amount they're willing to pay.
However, you should also be careful of giving out VIN numbers. Before giving them out, ask for identification because some dishonest people sometimes use the registered car's VIN number in order to hide vehicles that have been stolen. Then, they use the VIN number to create title and registration of the stolen vehicle. 
Conclusion
Buying or selling a car will only turn out to be a good experience if you're sure of the true worth of a car and its condition. One way you can know this is by checking the car's history through a VIN number or by it's licence plate number. As mentioned earlier, a VIN check is a surefire way of protecting yourself from accidentally buying a stolen car, an unreliable vehicle, or a still encumbered property by another individual. There are a lot of ways you can check out the VIN number for free, but the full vehicle history report is the only way to know everything about the cars past.
DECODE YOUR VIN INSTANTLY
CHECK THE VIN OF YOUR SELECTED CAR RIGHT HERE
NEW!
CHECK YOUR LICENSE PLATE INSTANTLY
CHECK THE LICENSE PLATE OF YOUR CAR HERE