Vehicle recalls can be annoying, but they are part and parcel of owning a car. Vehicle recalls happen when a defect in manufacturing creates safety issues with a car that need to be resolved. But how do you know if there are any recalls for your vehicle?
Once your vehicle is registered, manufacturers have an obligation to inform you by mail of any recalls for your make and model of vehicle. However, addresses change, and letters can get lost in the mail. The best and easiest way to find out if there are any recalls on a vehicle you own or are thinking of buying is to run a free VIN check with our VIN checker tool below.
DECODE YOUR VIN INSTANTLY
CHECK THE VIN OF YOUR SELECTED CAR RIGHT HERE
NEW!
CHECK YOUR LICENCE PLATE INSTANTLY
CHECK THE LICENCE PLATE OF YOUR CAR HERE
What Is A Car Recall?
We may have been manufacturing cars for more than a century, but still, no one has perfected the process. No car is perfect, and often, vehicles can come off the production line with flaws that nobody is aware of. Sometimes, by the time a flaw is discovered, thousands or even millions of vehicles may have already been sold to customers.
Because car issues can sometimes threaten human safety, car manufacturers are obliged to inform anyone who has bought one of their vehicles of certain defects. This is why it's so important to register your ownership of the vehicle with the local authorities.
Not only is it a legal requirement, but it can help car manufacturers find anyone who owns a vehicle that has been recalled, even if you didn't buy it from the manufacturer but from a private seller.
By running a free VIN check with our VIN checker tool, you can quickly and easily find out if there are any recalls on a car you own or are thinking of buying. This way, even if your address changes or the letters informing you of the recall don't reach you, you'll still be able to stay on top of any potential risks to your safety as a vehicle owner.
If there are recalls for your car model, make sure that you take appropriate action and contact the manufacturer directly for advice. They will usually replace parts for free or provide instructions on how to fix the issue yourself to restore your vehicle's safe operation.
It's important not to ignore any recall notices because they could risk your safety. So stay informed and use our VIN checker tool to make sure that you address any recalls that may affect your vehicle as soon as possible. Doing so can help keep you and your loved ones safe on the road.
A recent investigation by the CBC found that more than 1.5 million cars in Canada have been recalled for engine failures alone. But recalls can also be issued for problems with lights, mirrors, windows, windshields, seatbelts, and many other components of a car. Ultimately, any time a car has a defect that might impact the safety of the driver and passengers, a recall will be issued.
Why Do Recalls Happen?
Modern car manufacturing is a high-precision business, but that doesn't mean mistakes can be made. Even the robots on the production line of most car manufacturers are far from perfect. After all, they are machines – their programming can be flawed just like any other machine.
Recalls happen for a variety of reasons. Sometimes it may be due to a component that is faulty and needs to be replaced or adjusted. But sometimes it may be down to something as simple as the wrong type of screws being used in assembly. In either case, recalls are issued if the manufacturer believes they could pose a safety risk to drivers or passengers.
Back in the 1980s, Ford was forced to issue the biggest car recall of all time, affecting 21 million vehicles on the road. This recall concerned the parking gear of the car that could easily slip from park into reverse. This recall actually caused nearly 100 deaths, so it demonstrates how serious a car recall can be.
However, most recalls are far less serious. Still, that doesn't mean you should ignore them. Car manufacturers don't want to issue recalls — they have to for safety reasons. So you should never ignore any recalls your car gets.
Are Car Recalls Free?
Almost all the time, if a recall is issued for a car you own, the manufacturer will have to fix the issue for free. When an issue affects the safety of a car, the manufacturer is obliged to provide a solution.
The manufacturer has the option to repair the faulty part, replace the car completely, or refund you the purchase price of the car minus reasonable depreciation. Most of the time, the cheapest and easiest option for the manufacturer is to fix the defective part.
Of course, it's always possible that while repairing a recall, a mechanic may find other issues with your car that need fixing. This is especially true with all the cars that develop more issues. If the problem is not directly connected with the recall, the manufacturer is under no obligation to fix it, and the cars' owner — you, in other words — will have to fix it at your own cost.
That's why it's important to know if there are any recalls issued on a car before you buy it. Even if the recall issue will be fixed for free, there may be other issues with the car that won't be. Besides, taking your car in for recall can be a hassle, so is better to avoid it if you can.
How To Check Your Car For Recalls
In Canada, you can check recalls on any model of car on Transport Canada's Motor Vehicle Safety Recalls Database. This allows you to search any make and model of vehicle to see if there are outstanding recalls on it. The service is free, and you can then check with the car seller to see if the recall work has been performed. Make sure to ask for proof of any recall work completed.
You can also check for recalls with our free VIN check tool. Unlike the government recall site, this will not only tell you of any recalls issued for the vehicle, but can also give you:
a service history of the vehicle
information on any airbag deployments
information about where and when the vehicle has been registered with previous owners
and whether the vehicle has been in any crashes
This provides a much more complete picture of the health and condition of a car than a recall check alone can give you.
However you find out about a recall on a car you own, or one you intend to buy, it's important to take it seriously. Make sure to get any safety recalls fixed as soon as you can. And if you're buying a car with outstanding recalls, remember that you'll have to take the time to take the car to a nearby dealership and get it repaired, meaning you'll lose the use of the car for long as that takes. Therefore, you may want to renegotiate the price of the vehicle to reflect that.
Also, be warned that if the previous owner has ignored safety recalls, that may be an indication that they have ignored doing other routine maintenance on the car. That's why it's never a bad idea to get a full prepurchase inspection done on any car you're thinking of buying.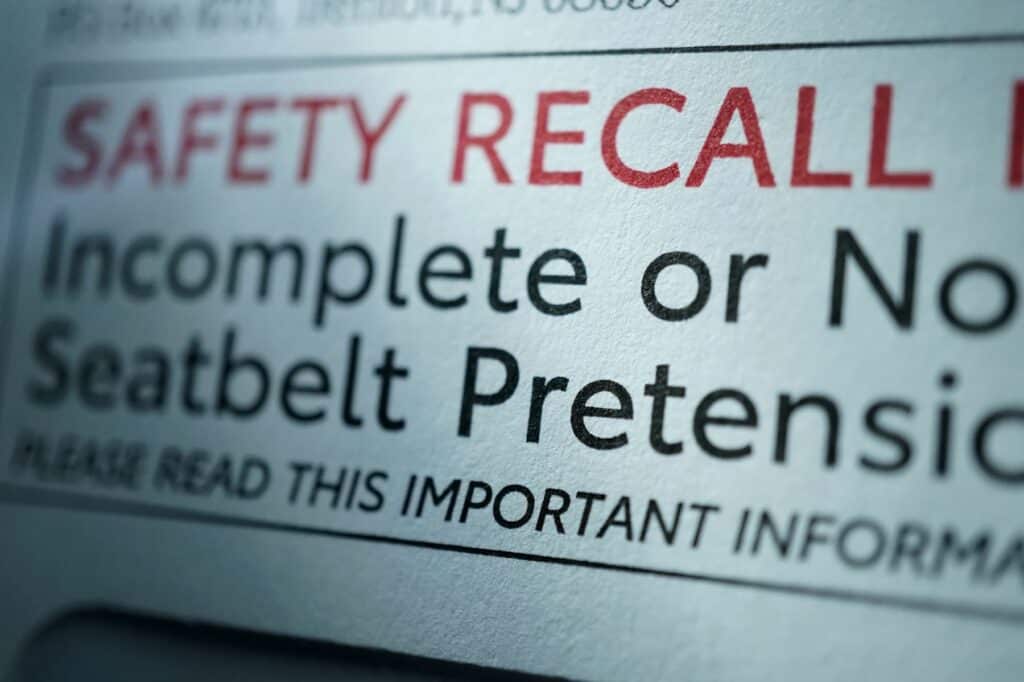 FAQs
How often do recalls occur?
Recalls occur fairly often, with a few hundred issued each year in Canada. Different manufacturers issue recalls more frequently than others, and some car models are more prone to issues than others.
Is it free to check for recalls?
Yes, checking for recalls is free. You can check the government recall database or use our VIN check tool to get a more comprehensive look at the car you're interested in.
What happens if I ignore a recall?
Ignoring a recall could be dangerous and put you and your passengers in danger. Additionally, it could leave you liable if an accident were to occur due to an issue that was covered by a safety recall but was not attended to. It's always best to get any outstanding recalls fixed as soon as possible.
How do I know recall work has been performed?
If you're buying a car that already has an outstanding recall, make sure to ask the seller for proof that any necessary recall work has been performed. If they can't produce this documentation, it's best to walk away from the deal or at least renegotiate the price of the vehicle.
Do car recalls expire?
Safety recalls don't expire. The manufacturer is obligated to repair any recalled cars free of charge, no matter how old they are. However, the manufacturer may stop providing parts for older vehicles at some point, so it's best to get any recall work done as soon as you can.
DECODE YOUR VIN INSTANTLY
CHECK THE VIN OF YOUR SELECTED CAR RIGHT HERE
NEW!
CHECK YOUR LICENCE PLATE INSTANTLY
CHECK THE LICENCE PLATE OF YOUR CAR HERE